THIS WEBINAR IS ALREADY OVER
No problem: You can view past webinars in our Webinar Channel
The Power of Agile Process Mining – From raw to ready: How to build a solution for supply chain transparency "on the fly"
18 Jun, 2020
3:00pm CEST
1 Stunde

"SPEED MATTERS" - Intelligent self-service dashboards change the rules of the game and make process mining accessible to everyone and every type of workflow or business process. Watch our expert live dashboarding in MPM ProcessMining in the upcoming webinar: From raw to ready: How to build a solution for supply chain transparency "on the fly"?

Webinar language: English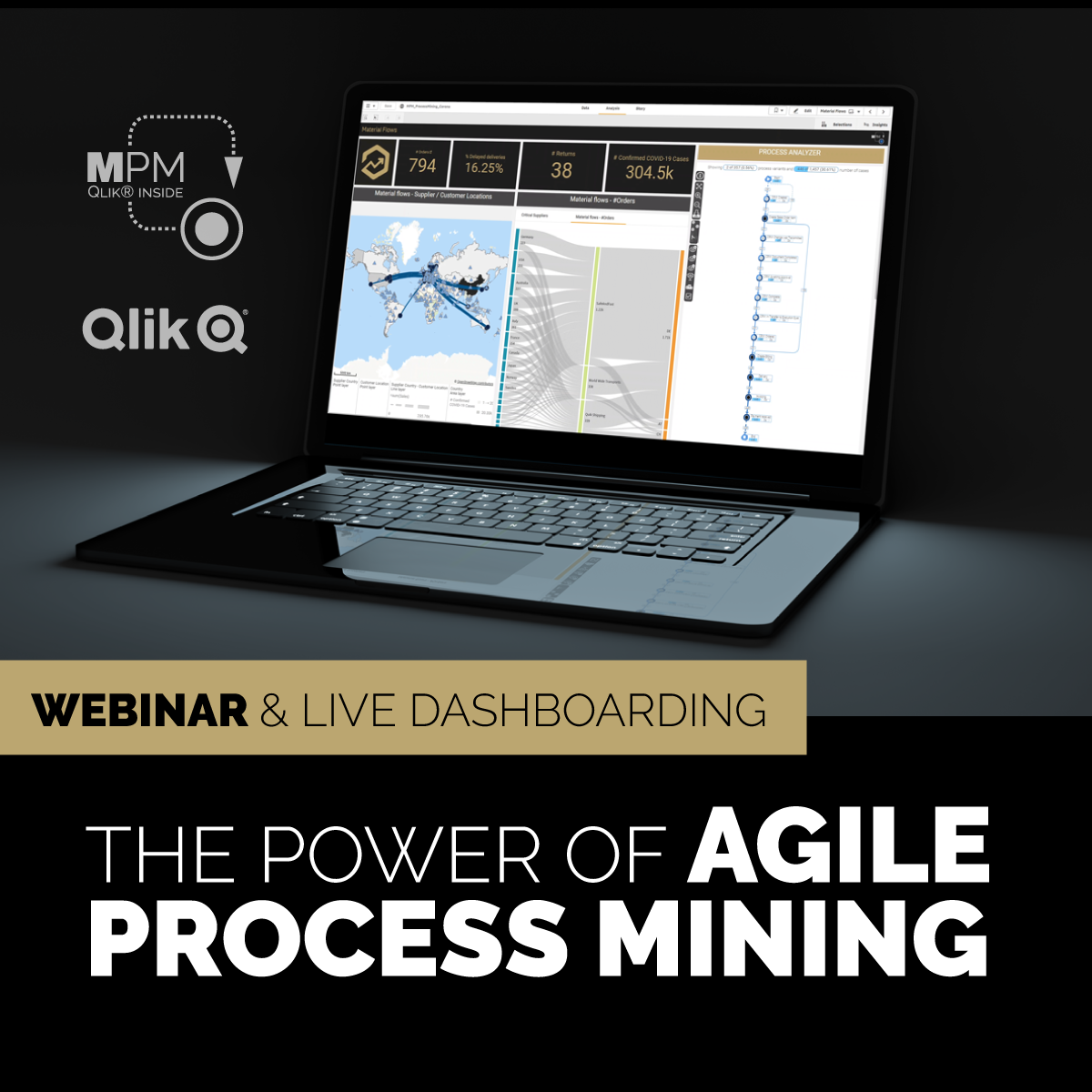 Scroll down to learn more ...
DEAR INTERESTED PARTIES
WHAT YOU WILL EXPERIENCE IN THE WEBINAR
"SPEED MATTERS" - faster than ever, companies have to make decisions in today's data-driven world. But how do you make the right decisions to achieve more efficient processes? There are many colorful dashboards. What really matters is how agile and fast meaningful process mining analyses can be created on the basis of raw data. Intelligent self-service dashboards change the rules of the game and make process mining accessible to everyone and every type of workflow or business process - i.e. at the point of action. Automatically generated process visualizations reveal bottlenecks and loops. Augmented intelligence functions provide additional support for the user: employees can easily examine complex processes in a dialog-oriented and visual manner. Corrective actions can be derived and taken immediately. We have thought of something special for you! Watch our expert live dashboarding in MPM ProcessMining in the upcoming webinar:
From raw to ready: How to build a solution for supply chain transparency "on the fly"?

Get to know the 4 attributes of the Qlik® DNA:
AGILE
In contrast to dedicated process mining solutions, agile process mining takes place in convenient, flexible analytical applications. Expanding the data space is possible "on-the-fly".
We'll provide you with an insight into the agile world of analysis!
CUSTOMER-CENTRIC
In contrast to traditional process mining solutions, self-service Process Mining is possible. Business analysts and professional users can independently create sophisticated data and process visualizations as well as customized analyzing applications.
We'll show you how easy it is to create individual apps!
TIME-SAVING
80 % of expenditures regarding BI & Process Mining projects are related to data preparation.
In contrast to traditional process mining solutions, the processing of data does not take place in the source system - all thanks to integrated ETL & mining algorithms. Consequently, the processing performance is significantly higher.
We'll show you how highly performant and simple data preparation can be.
DATA GOVERNANCE
Data governance is one of the most important success factors for digital transformation and plays a decisive role in the success of data analysis and big data projects. Qlik-based process mining offers reliable data quality.
Learn how Qlik® ensures the highest standard of data quality across multiple data sources.
Register for the webinar now FREE of charge
Take the opportunity to get smart for free with a look at the Process Mining Tool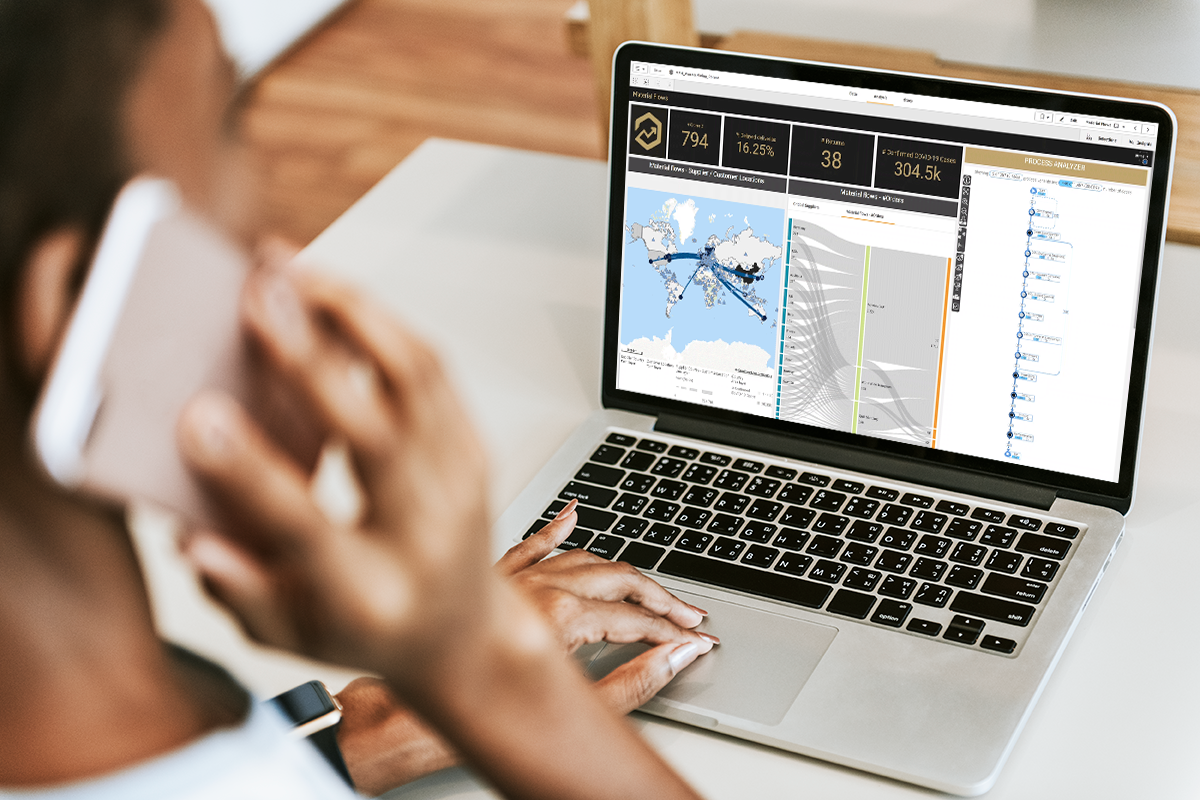 PROCESS MINING WITH QLIK DNA
WHY QLIK-BASED PROCESS MINING
The philosophy of the market-leading BI platform Qlik® is that " data is the key to the success of your business". Renowned experts such as Prof. August-Wilhelm Scheer also know that the efficiency of the central core processes is a prerequisite for succeeding on the market. The logical consequence: Business Intelligence meets Process Mining.
There are often separate "standalone" BI and process mining solutions based on similar source data. However, there is an exciting development in the Qlik® universe that has arisen from the understanding that process performance indicators (PPIs) should not form their own analysis clusters in addition to classic indicator analyses. On the contrary: the special features of the modern "Agile BI" pioneer Qlik® are "inherited" by process mining analysis and offer a unique added value. A real win-win situation for Qlik® users. But also for Qlik® newcomers this presents Process Mining of a special kind.
In the webinar we will demonstrate the Process Mining solution with Qlik®-DNA ...
You do not know Process Mining yet? Learn more now in the webinar