THIS WEBINAR IS ALREADY OVER
No problem: You can view past webinars in our Webinar Channel
More Process Efficiency through Data-Driven Decisions – Process Mining as a Game Changer
28 Apr, 2020
3:00pm CEST
1.5 Std.

Learn from three perspectives - from our process mining experts, from our technology partner Qlik® and from our satisfied customer STRÖER- why process mining is a true game changer in terms of process efficiency. Together we invite you to our "3 perspectives" webinar special.

Webinar language: English
 APRIL, 28 |  3 PM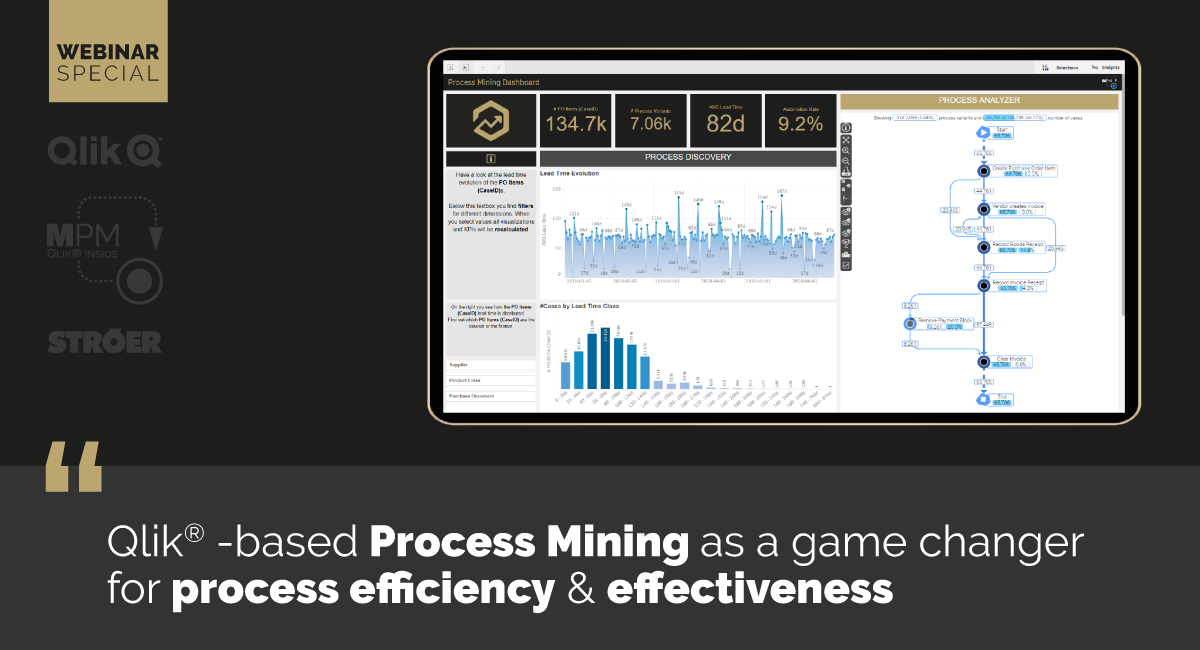 Scroll down to learn more ↴
DEAR INTERESTED PARTIES
WHAT YOU WILL EXPERIENCE IN THE WEBINAR
Customer Service. Lead Times. Process Costs. - Anyone who wants to make their processes more efficient needs a key figure and analysis system that provides real-time information in order to take corrective & improvement measures in operational processes. The answer is Process Mining.
Learn from three perspectives - from our process mining expert, from our technology partner Qlik® and from our satisfied customer STRÖER - why process mining is a true game changer in terms of process efficiency and process effectiveness. Together we invite you to our "3 perspectives" webinar special.

Welcome & Introduction
From embedded process analytics to reshaping the process |
Process Mining has the potential to change operations in companies to the same extent ERP did before it. And analytics is moving to the center of this paradigm shift. Dan Sommer, Senior Director of Market Intelligence at Qlik, will give the overview, as well as provide some examples of disruptive use-cases happening already.
Using MPM ProcessMining as a game changer in improving process efficiency |
Ralf Feulner, Managing Director and Constantin Wehmschulte, Head of Process Mining at MEHRWERK, provide insight.
From Practice: More Process Performance at STRÖER - From raw to ready within 2 weeks  |
Simone Kollmann-Göbels (Senior Vice President Procurement & Real Estate) and Tobias Stiegler (Senior Vice President Group IT, Development & Consulting at Ströer SE & Co. KGaA) tell about their experiences.
Making it happen: Gaining the first benefits
within 4 to 6 weeks
Q&A
Register for the webinar special now FREE of charge
Take the opportunity to get smart for free with a look at the Process Mining Tool
YOU DON'T KNOW PROCESS MINING YET?
DEFINITION
Process|Mining
[ˈprəʊ.ses ˈmaɪ.nɪŋ], the; (Business Process Discovery)
Automated business process analysis - with all relevant key figures - based on digital traces in IT systems. Process knowledge contained in data, implicit and otherwise hidden is visualized and thus tangible and transportable.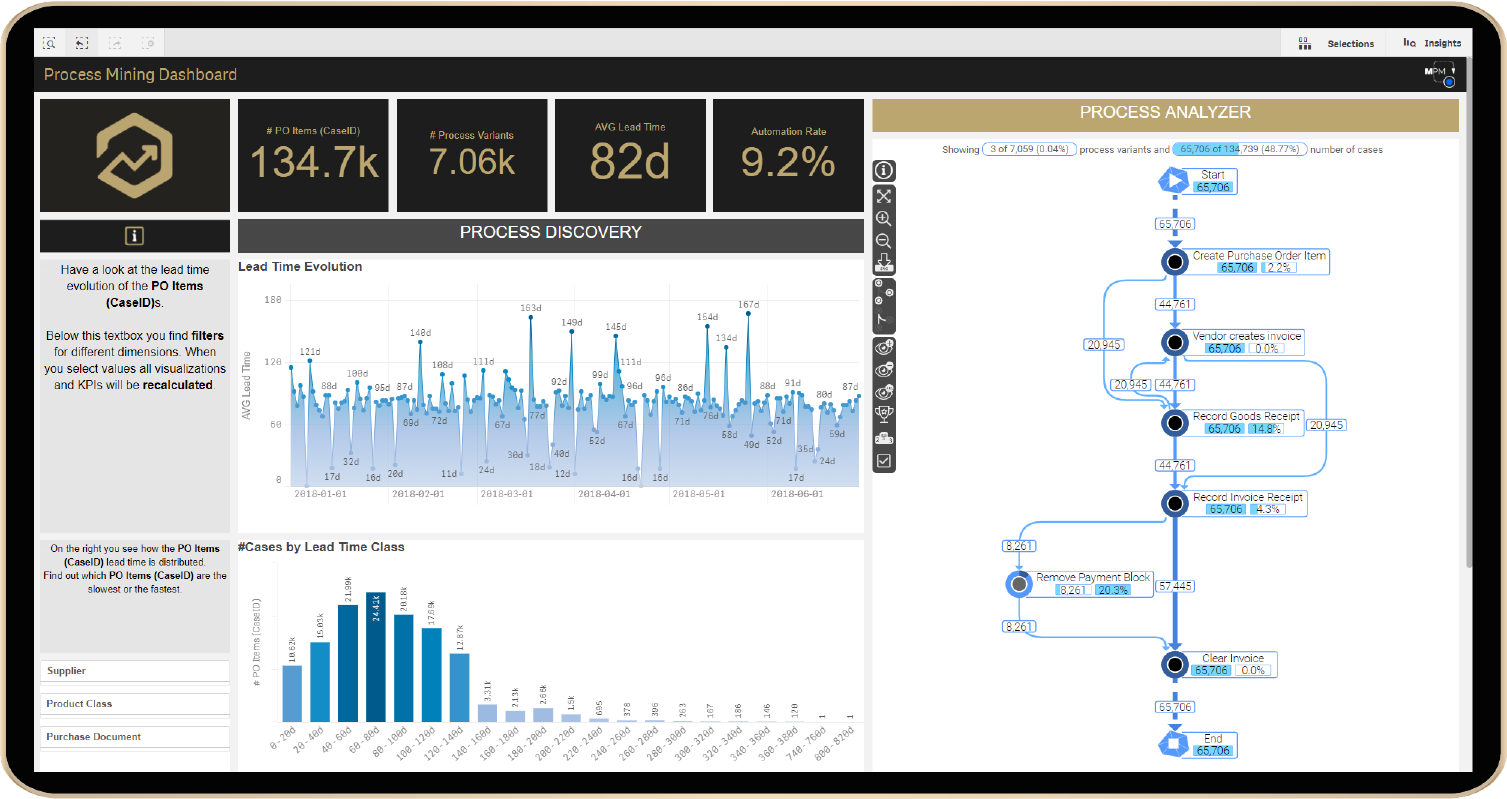 WHY PROCESS MINING
Achieve operational Excellence
Increase Efficiency despite Complexity
We live in a world of business processes that are supported digitally. These processes leave their mark on IT systems. People are connected through IT systems (e.g. SAP®, Microsoft Dynamics® etc.), whereas machines are linked by MES systems (Industry 4.0). Complexity is increasing. Flexibility must be maintained. Costs should be reduced. Process Mining gives you complete transparency:
What is happening daily within your processes?
Where do deviations, inefficiencies, compliance issues occur?
What potential improvement may result from this?
WHY QLIK-BASED PROCESS MINING
Process Mining with Qlik DNA
The philosophy of the market-leading BI platform Qlik® is that " data is the key to the success of your business". Renowned experts such as Prof. August-Wilhelm Scheer also know that the efficiency of the central core processes is a prerequisite for succeeding on the market. The logical consequence: Business Intelligence meets Process Mining.
There are often separate "standalone" BI and process mining solutions based on similar source data. However, there is an exciting development in the Qlik® universe that has arisen from the understanding that process performance indicators (PPIs) should not form their own analysis clusters in addition to classic indicator analyses. On the contrary: the special features of the modern "Agile BI" pioneer Qlik® are "inherited" by process mining analysis and offer a unique added value. A real win-win situation for Qlik® users. But also for Qlik® newcomers this presents Process Mining of a special kind.
In the webinar we will demonstrate the Process Mining solution with Qlik®-DNA ...
AGILE
In contrast to dedicated process mining solutions, agile process mining takes place in convenient, flexible analytical applications. Expanding the data space is possible "on-the-fly".
We'll provide you with an insight into the agile world of analysis!
CUSTOMER-CENTRIC
In contrast to traditional process mining solutions, self-service Process Mining is possible. Business analysts and professional users can independently create sophisticated data and process visualizations as well as customized analyzing applications.
We'll show you how easy it is to create individual apps!
TIME-SAVING
80 % of expenditures regarding BI & Process Mining projects are related to data preparation.
In contrast to traditional process mining solutions, the processing of data does not take place in the source system - all thanks to integrated ETL & mining algorithms. Consequently, the processing performance is significantly higher.
We'll show you how highly performant and simple data preparation can be.
DATA GOVERNANCE
Data governance is one of the most important success factors for digital transformation and plays a decisive role in the success of data analysis and big data projects. Qlik-based process mining offers reliable data quality.
Learn how Qlik® ensures the highest standard of data quality across multiple data sources.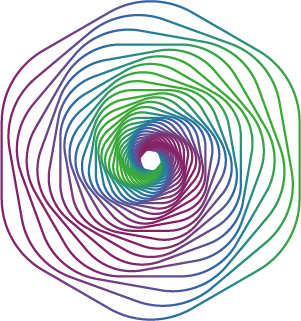 Learn more now in the webinar special