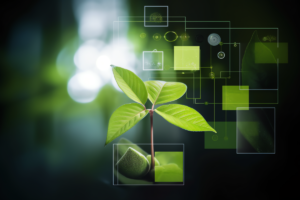 Reducing CO2 emissions is one of the most pressing challenges facing companies around the world today. To achieve environmental goals and meet regulatory requirements, organizations must find efficient ways to minimize their carbon footprint. Despite a variety of available carbon reduction technologies and measures, many companies struggle to quantify and effectively reduce their carbon footprint. This not only leads to a loss of credibility, but also places a significant financial burden on companies. In the European Union, the Corporate Sustainability Reporting Directive (CSRD) will make the situation even more complex from 2024, as it is estimated that around 49,000 companies will be required to report on the impact of their corporate activities on the environment and society.
The corporate CO2 dilemma
Companies are aware that reducing their CO2 emissions is crucial for environmental protection. However, the multitude of heterogeneous data sources and the increasing number of IT systems and applications make it difficult to understand the process correlations and perform root cause analysis. Thus, many companies find it very difficult to implement CO2 reduction measures efficiently and transparently. In addition to social responsibility, CO2 emissions also represent a significant cost burden. The result is:
Regulatory costs:
Fines of up to €10 million or 5% of annual turnover
Operating costs:
Price per ton of CO2 to rise from €30 to €55-65 by 2026
Financing costs:
Financiers are increasingly taking environmental performance into account in capital costs
Reputational risks:
A reputation as a polluter can be very expensive
At the same time, corporate data conceals enormous potential for using resources more efficiently and improving the ecological footprint. An optimally controlled, resource-conserving and responsive process will produce less CO2 than a business process in which overcapacity, waste or rework occurs or transport routes are suboptimal.
Thus, there are two initiatives for reducing CO2 emissions: digitalized process optimization and automated process management. The former enables objective, repeatable and cost-effective suggestions for process improvement thanks to process transparency. The second regulates the process before inefficiencies arise and enables users to respond to incidents instantaneously.
Creating green added value through AI-driven process mining
Process excellence platforms such as mpmX, which add process automation functionalities to process mining, flexibly adapt to the requirements and business models in almost all company divisions and industries. Thus, not only costs or throughput times can be optimized, but also the CO2 emissions of a process. All that is needed is the data, and the platform with its three key components takes care of the rest:
Data Integration:
In today's world, companies collect enormous amounts of data. Yet this data often remains unused because it is not transformed into actionable information. mpmX offers state-of-the-art integration technologies to transform raw data into reliable and useful information. A standardized route to data integration not only ensures that the right data is made available to the right users at the right time, but also bundles the efforts of many individuals into a single query. The result: significant savings in precious time, computing power and validation of data. Hosting mpmX in the cloud also ensures particularly low CO2 emissions.
Process Mining:
Process mining is a technology that systematically analyzes and visualizes business processes. In today's digital world, where masses of data can be overwhelming, process mining helps to reconstruct and trace the processes in order to keep track of them. Every query or interaction in ERP, CRM or other business-related systems often requires resource-intensive background actions in the systems themselves to provide the desired information. Process mining is able to identify particularly computationally intensive queries in processes, analyze them and derive recommendations on how to avoid them or make them more efficient. Process variants with a suboptimal CO2 balance are also reliably uncovered and suggestions for improvement are immediately generated. For example, the supply chain can be CO2-optimized by choosing the right suppliers and means of transport.
Process Automation:
Based on the digital twin and the derived, intelligent recommendations for action, the process is automatically optimized. In this way, CO2 emissions can be reduced not only by saving resources, but also by avoiding particularly CO2-emitting process variants. For example, a forward-looking, automated process can consistently avoid CO2-excessive express deliveries by air, which are often caused by reacting too late to changes in the supply chain. Various factors such as, less rework, less end equipment involved, more efficient processing line design are other examples.
Sustainability as a game changer for your success
Sustainability is not only a moral obligation, but also a business success factor. Companies that act sustainably can reduce costs, strengthen their reputation, reduce risks and drive innovation. By transforming raw data into valid information and analyzing all business processes, companies can take their climate and environmental goals into account in every action they take.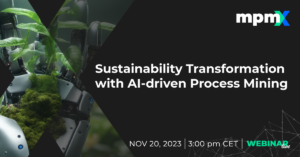 Would you also like to fully exploit your optimization potential and measurably reduce your company's carbon footprint? In our upcoming Live Webinar on November 20, 2023, we will show you how you can use mpmX to follow your sustainability strategy in a targeted and effective way. Register for free today:
GO TO THE WEBINAR REGISTRATION
Sources and further links