Do you really master
your business processes?
Visit our
ValueStory webinars!
Do you master your business processes or are you drowning in them?
A smoothly functioning value chain is the basis for outstanding customer service, competitive advantages and profitability. That's why it pays to give an honest answer to the question "Do you really have your business processes under control?" In the course of digitization, it is essential to put the processes in one's own business unit to the test and to continuously analyze and optimize them with regard to the criteria of costs, quality, time, efficiency and volume. For this purpose, information must be permanently available and, thanks to current real-time data, support the immediate and automated implementation of measures. We refer to this as Active Process Intelligence.

Register for free and learn about the ValueStories of other companies!
Start your Reshaping Value Creation project. Together we will find your ValuePath and unlock hidden value creation potential – along the entire value chain. Of course, we start where your greatest potential is hidden. And best of all: The implementation takes place within the shortest possible time on the basis of market-leading in-memory technology from Qlik and the latest IPaaS (Integration Platform as a Service) functionalities.
Write your own process optimization story

Our ValueMap with a selection of different success stories: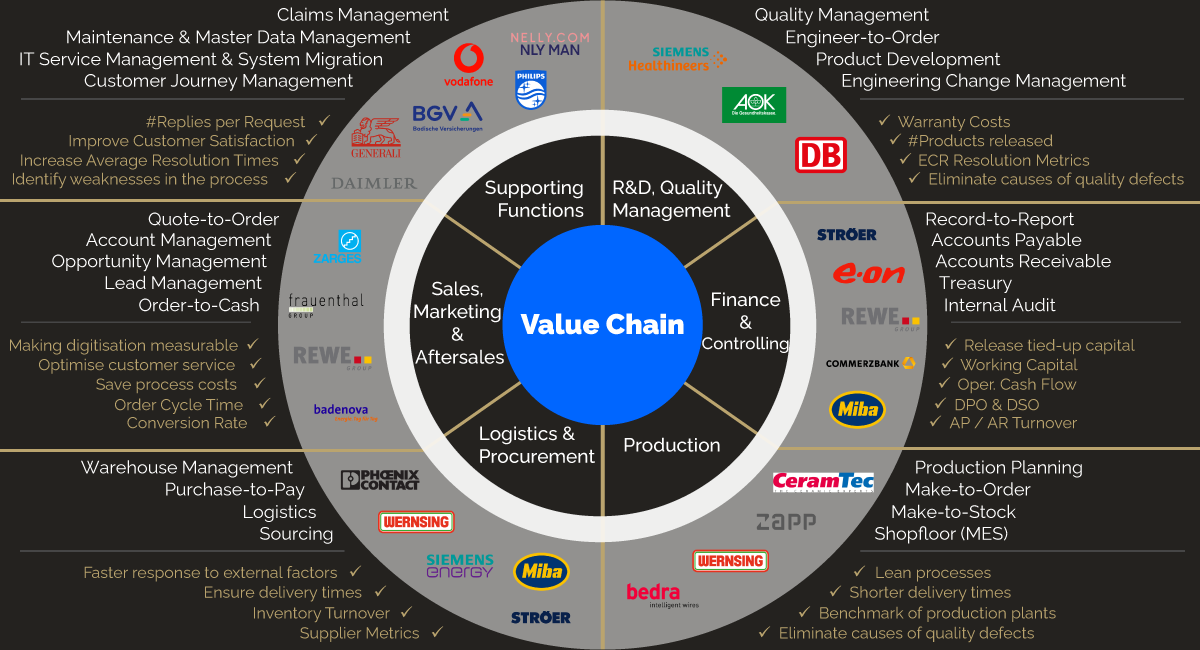 BEST PRACTICE |
Pre-built best practice playbooks – for all areas of value creation
EXPERIENCE |
Our ValueMap with a wide variety of success stories and deployment scenarios
KEY TECHNOLOGY |
The Qlik-based Active Process Intelligence Platform with the key technology Process Mining
Finance & Controlling
ValueStory webinar
__________________________
Gain insights into the optimization potential of value-adding processes from finance and controlling.
From unused cash discount opportunities and reminders from suppliers to avoidable capital commitments, numerous conditions can be significantly improved through intelligent real-time process analysis.
May 03 | 3:00 pm | More details ↴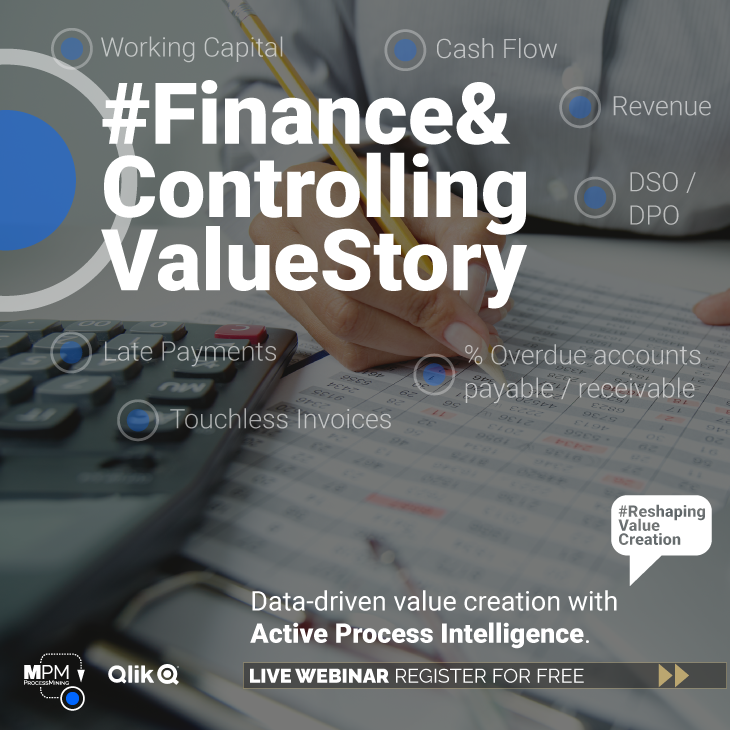 Production & SCM
ValueStory webinar
__________________________
Find out how you can holistically optimize the balancing act between individual customer requirements and fast delivery times as part of your production processes and learn about analysis options that Process Mining offers for your own logistics and supply chain – from order entry through the entire process chain to freight delivery.
May 04 | 3:00 pm | More details ↴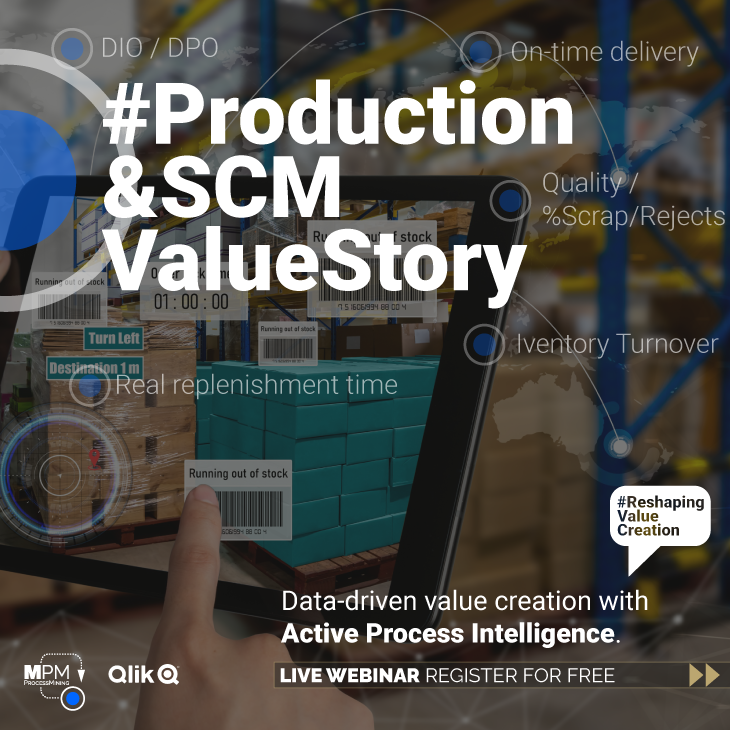 Sales & Aftersales
ValueStory webinar
__________________________
Customer satisfaction is the success factor par excellence – which is why there are also a number of challenges to be mastered in everyday sales. Follow live in the webinar how the different, IT-supported work steps in the sales process are made tangible from the order to the payment and thus optimization potentials are made visible.
May 05 | 3:00 pm | More details ↴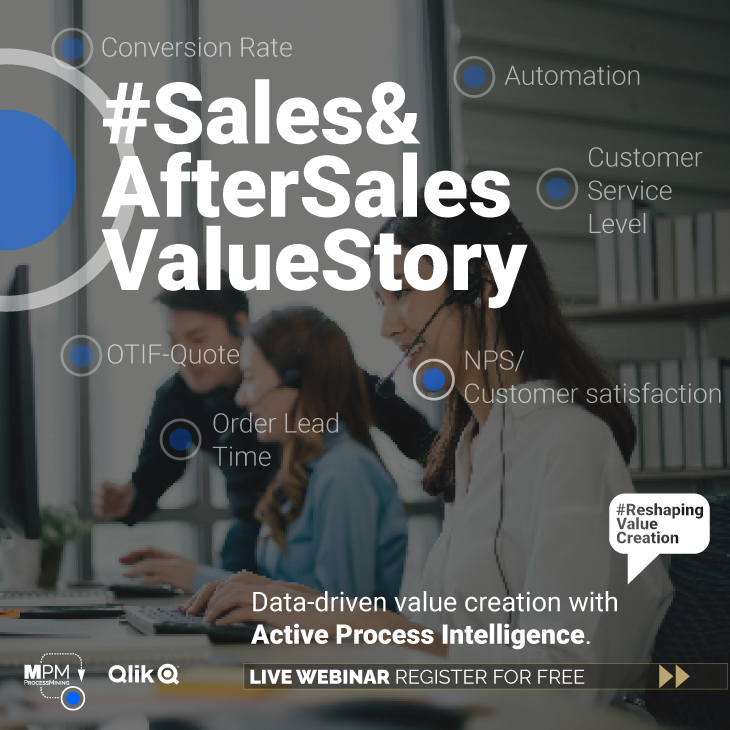 In order to gain usable insights from your data, you need a technology that can automatically scan your processes and identify weak points. We show you a solution that allows you to analyze, visualize and profitably optimize the data from your specialist areas.
With MPM your data becomes tangible. The Process Mining solution with the fastest time to value.
Easy data acquisition and preparation, unique analysis experience, intuitive action management – MPM offers you an all-in-one platform to increase your process efficiency. From midsize companies to large corporations. On-premise or from the cloud. Scalability, flexibility and agility are the hallmarks of MPM.
MPM ProcessMining – a digital process analysis professional
that uncovers efficiency deficits, supports the redesign of
value-adding processes and helps to achieve more process efficiency.

By Active Process Intelligence we mean a permanently high level of information, where technology and processes based on current real-time data help to trigger immediate and automated measures.
Active Process Intelligence thus makes the latest information available at the most important moment: now.
Information should be permanently available and, thanks to up-to-date real-time data, support the immediate implementation of actions along the entire value chain. Whether automated metrics and insights in dashboards or direct embedding in machine-driven processes – Active Process Intelligence combines "data at rest" with "data in motion", reflects the pulse of the data and delivers insights into the business moment.
Use the information from Process Mining to extract triggers in running processes.
Identify processes that have not yet been completed and see how long these processes have been inactive.
Measure process inactivity – be notified when a process gets stuck at a certain point.
Register now for our ValueStory webinars!
Register for free and learn about ValueStories from other companies.
ABOUT MEHRWERK
MEHRWERK GmbH was founded in 2008 with the vision to implement agile and user-friendly Data Analytics solutions to gain acceptance and direct impact for customers. The company has developed MEHRWERK ProcessMining (MPM) on the market leading self-service BI Platform Qlik Sense, to offer comprehensive process mining capabilities to enterprise customers. MPM combines self-service process mining, visual and associative analytics so that even non-experts find answers rapidly. The platform enables MPM to integrate functionalities that expand the sole Process Mining capability such as Advanced Analytics and AI tools, Conformance Checking, Big Data approaches and Real-time Scenarios. The data governance capabilities empower business users to enrich and create new applications and ad hoc analysis and dashboards without the need of programming skills. MEHRWERK has deployed its solution in various industries, including Automotive, Healthcare, Energy, Manufacturing and governmental institutions.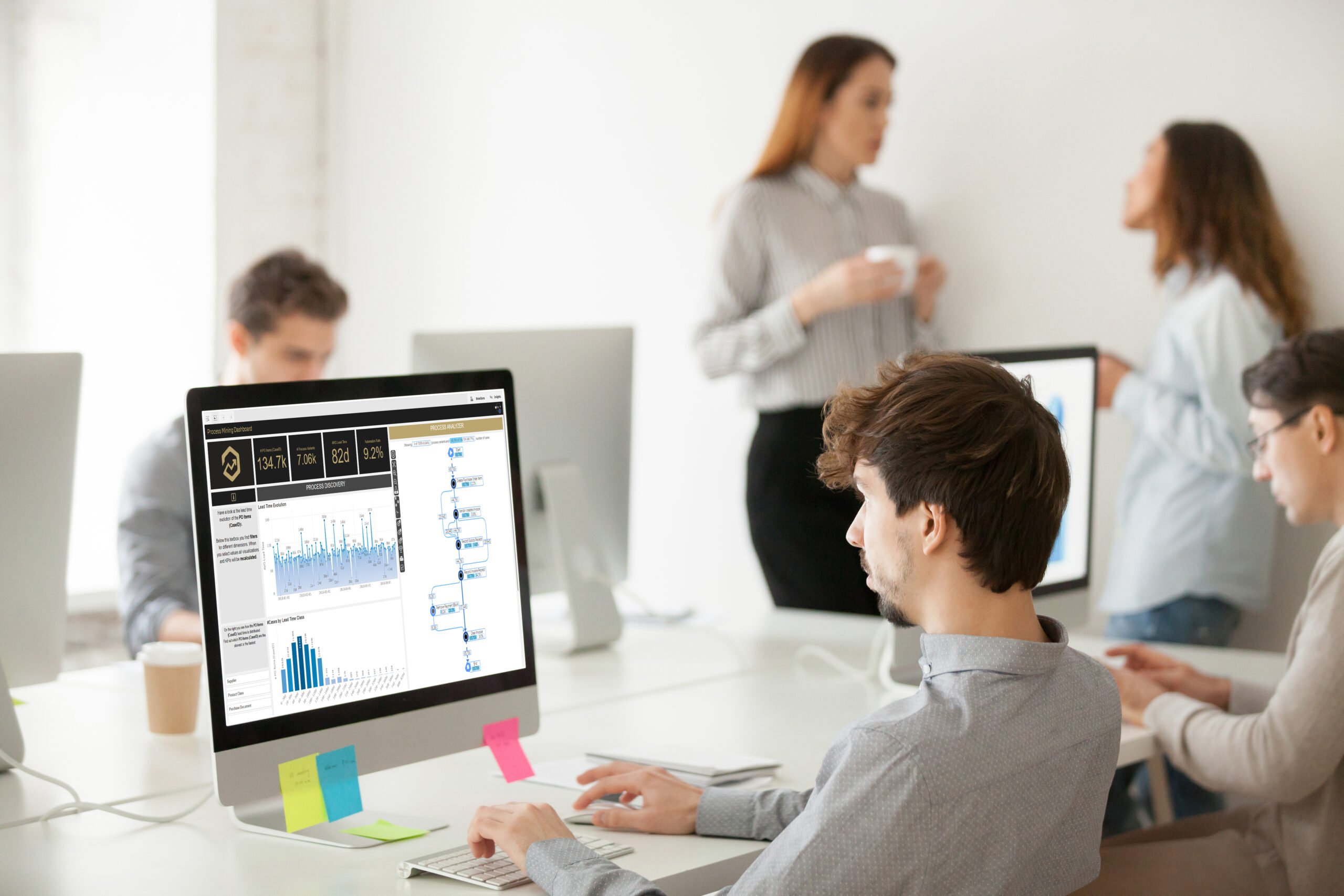 MEHRWERK ProcessMining was listed as "representative vendor" and pioneer for BI-based Process Mining in the Gartner Market Guide for Process Mining
"BEST OF 2018" Innovation Award IT
ICPM 2019 Conformance Checking Award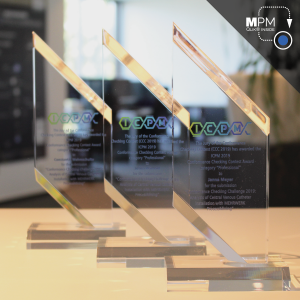 Qlik Global Innovation Partner of the Year