LIVE WEBINAR
THIS WEBINAR IS ALREADY OVER
No problem: You can view past webinars in our Webinar Channel
Sustainability Transformation with AI-driven Process Mining
20 Nov, 2023
3:00pm CET
45 minutes

The reduction of CO2 emissions by companies is of crucial importance in order to achieve the global goals for protecting our environment. In doing so, many companies are caught in a dilemma: while countless technologies and measures for CO2 savings exist, they fail to consolidate measures transparently and efficiently. As a result, credibility and efficiency in implementation suffer. In addition, CO2 emissions have become a significant cost burden for companies, especially since fines in the millions are threatened for non-compliance with ESG guidelines and the reputation of being a polluter has its price.

Process Mining makes it possible to strategically analyze and monitor business processes and identify ways to significantly reduce one's carbon footprint. How does it work? With the help of the Process Excellence Platform mpmX, CO2 emissions in processes are made transparent - thanks to the digital twin - and optimized by algorithms. All key figures are evaluated in a process-oriented manner and shown in a digital twin, thus identifying the real polluters and making CO2 emissions visible so you can eliminate them. In our upcoming webinar on November 20, 2023, you will learn more about the AI-supported sustainability transformation of your business processes. We kindly invite you to join us!

Scroll down to learn more ↴
Agenda
Introduction | Challenges and risks of CO2 emissions for companies
Process Optimization & automated Process Management | Two initiatives that contribute to CO2 emissions reduction
Live Demo | Get insight into the intuitive process excellence solution mpmX
Q&A | Take the opportunity to ask our expert your questions
Speaker

Florian Stich
Solution Consultant
MEHRWERK GmbH
Want to know more about efficient CO2 management for your company?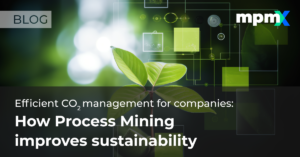 Companies are aware that reducing their CO2 emissions is crucial for environmental protection. However, the multitude of heterogeneous data sources and the increasing number of IT systems and applications make process correlations and root cause analysis difficult. Thus, many companies find it very difficult to implement CO2 reduction measures efficiently and transparently. In addition to social responsibility, CO2 emissions also represent a significant cost burden.
There are two initiatives for reducing CO2 emissions: digitized process optimization and automated process management. The former enables objective, repeatable and cost-effective suggestions for process improvement thanks to process transparency. The second regulates the process before inefficiencies arise and enables users to respond to incidents instantaneously. Process excellence platforms such as mpmX, which add process automation functionalities to process mining, flexibly adapt to the requirements and business models in almost all company divisions and industries...